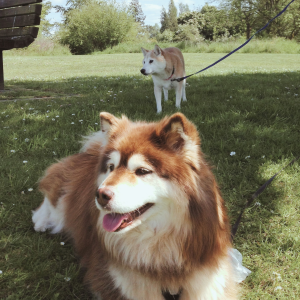 It started after my beloved furiends said goodbye.
Mui and Mulan were my best friends. They were always there; cheering and watching all my milestones and ups and downs as I matured. After their passing, I developed a strong fear that our memories would fade away as time goes by.
Looking for ways to solidify memories, a decision was made to build a company
A Company inspired by our memories and experiences
As beautiful fluffy furiends, Mui and Mulan enlightened opportunities to enhance our experiences together. Through our journey of designing and creating products, we have joined forces with Up Dog Toys to bring modern and innovative pet products that are designed for both beauty and functionality. Our shared mission is to create products that help strengthen the bond between pets and their owners and create happy memories that last a lifetime.
At MUi Pet Company, we are committed to crafting our products with forever friendship in mind. We hope that our products bring joy to your furry friends and make your lives as pet owners easier and more enjoyable. Thank you for choosing MUi Pet Company for your furry friend's needs.
We appreciate the incredible work of service dogs
At MUi Pet, we believe in celebrating and honoring the incredible work that service dogs do to assist individuals with disabilities. In recognition of service dogs and handlers, we are thrilled to announce a special promotion: 40% off your entire order!
Respectfully, we ask you to provide proof of your service dog. Contact us below for details.